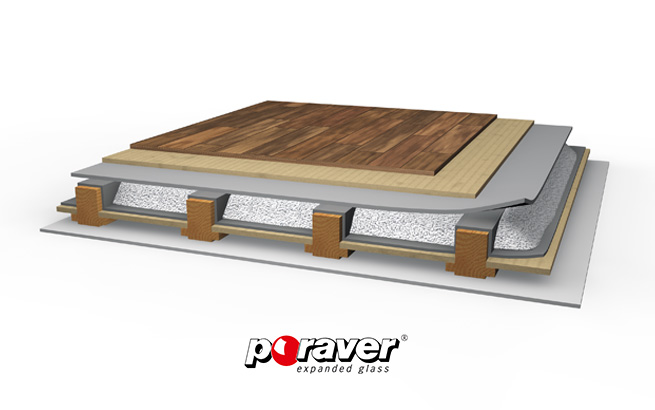 FILLS

FROM EXPANDED GLASS

100 % MINERAL AND HEALTH-FRIENDLY
---
Poraver® expanded glass is purely mineral and poses no environmental or health-related risks and is ideal for fills with sustainable characteristics. Compared to expanded polystyrene, PORAVER® is non-combustible and unproblematic in later disposal. The spherical granules are very lightweight and yet pressure-resistant. They are free of harmful materials such as VOC or fibres, stable over the long term, can be easily processed and do not offer a breeding ground for pests and mold. Poraver® granules can be used as loose bulk thermal insulation and as cement- or resin-bound fill for pressure loading  requirements.
PORAVER® FILLS
APPLICATION EXAMPLES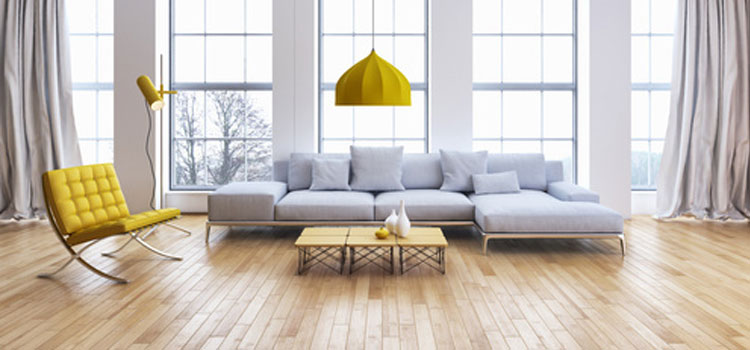 APPLICATION LOOSE BULK FILLS
THERMAL INSULATION FILL
---
The spherical Poraver® has a great pourablity. As dry loose bulk fill it fills beam ceilings and voids particularly easily. This also makes it easy to cover pipes and cable ducts. Facing formwork can also be easily backfilled for vertical interior insulation. Poraver® has an R-value of 2/inch, does not burn, is moisture-resistant and does not settle.
APPLICATION BOUND FILLS
CEMENT-BOUND LEVELING FILLS
---
Cement-bound Poraver® fills combine structural and thermal performance. It can be used as lightweight screed to adjust the height of floors or as levelling fill over cables and pipelines. Thanks to its low weight and moisture resistance, it can also be used on vaulted and trapezoidal steel ceilings and as a non-combustible pipe duct insulation. The easy handling and quick drying properties reduce man hours spent on the construction project.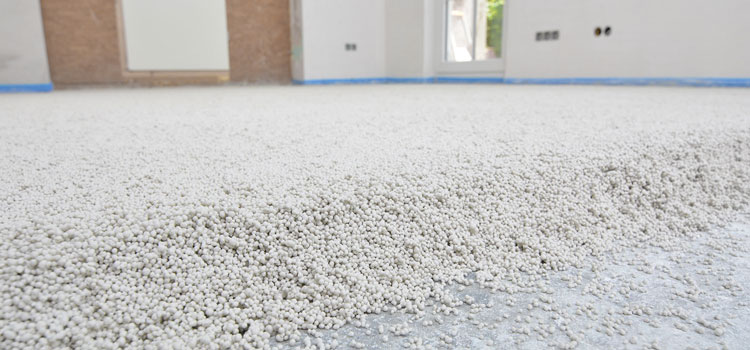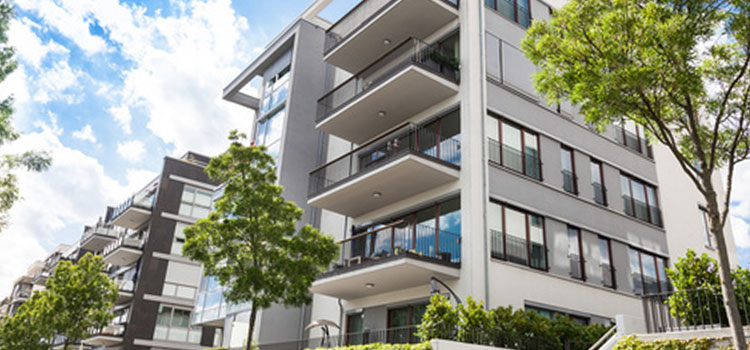 APPLICATION BOUND FILLS
RESIN-BOUND LEVELING FILLS
---
Resin-bound PORAVER® is ideal when fast accessibility is required. The resin-bound fill does not introduce water, dries faster and offers high strength in the floor area. These levelling fills can be used indoors and outdoors with appropriate resins. It can be used as a lightweight drainage screed for balconies and rooftop terraces. As a water-permeable, cement-free system, it effectively prevents frost damage and efflorescence and is also ideally suited as thermally insulating slope compensation on flat roofs or as a lightweight marine screed.
APPLICATION EXAMPLE
HEAT STORAGE INSULATION
---
Because of its very low thermal conductivity, its high grain strength and its resistance to rodents and moisture, PORAVER® is recommened as an insulation material for heat reservoirs and insulators. The ease of use and the option to be conveyed by air from silos are further advantages. Compared to perlite or vermiculite, PORAVER® offers a regular grain shape and higher strength. It therefore flows better, generates less dust and provides denser layers with fewer cavities. PORAVER® can be applied without waste and does not burn. The purely mineral granulate made of recycled glass is environmentally safe and can be disposed after the use without any problems.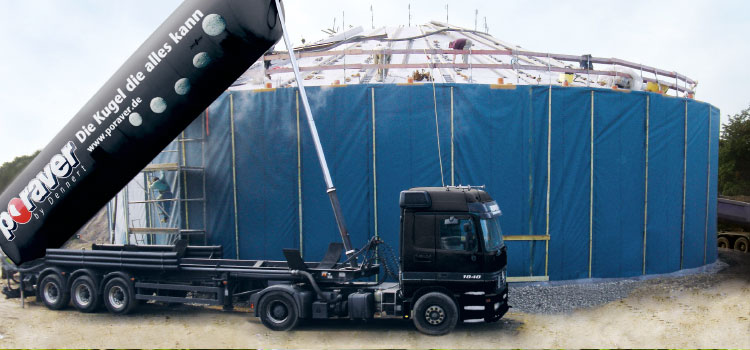 THE ADVANTAGES OF PORAVER IN FILLS®
---
Non-flammable

Lightweight

High compressive strength

Very good pourability

Made of post-consumer recycled material


Easy processing

Waste-free application

Does not offer a breeding ground for pests

Does not settle

Very good thermal insulation properties
PORAVER® SAMPLE SERVICE
Would you like to thoroughly test out Poraver® expanded
glass granules for your application? No problem!