THE RIGHT PACKAGING FOR YOUR REQUIREMENTS
BAGS, SUPER-SACS (FIBC) OR BULK
---
Order Poraver® X in the appropriate packaging for your production process: In bags, super-sacs (FIBC) or as bulk material in tanker trucks. Thanks to its great free flowing properties Poraver® is easy to handle in a factory environment. The Poraver® beads can be pumped or easily gravity fed without blockage.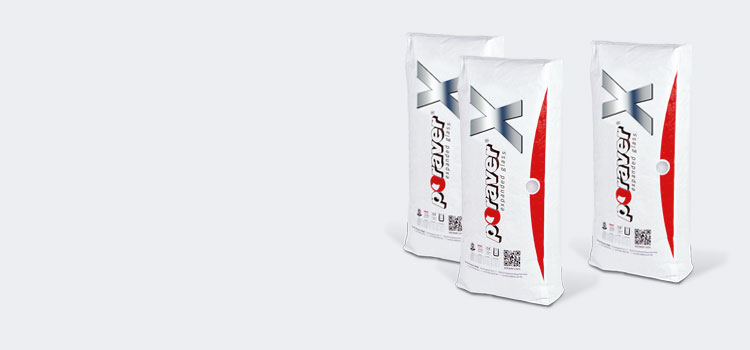 EASY TO HANDLE AND FLEXIBLE
PORAVER® X IN BAGS
---
Depending on the grain size, Poraver® is filled into easy-to-handle 55 liter paper-plastic composite bag. For transport, the bags are protected by a waterproof film or shrink-wrap on a pallet.
LARGE QUANTITIES ON PALLETS
PORAVER® X IN SUPER-SACS (FIBC)
---
Poraver® X super-sacs (Flexible Intermediate Bulk Container) have a practical discharge and dosing hose. Our super-sacs are available with 1.4 m³ capacity. For an easy handling they are packed on pallets as well.
FOR BULK PURCHASERS WITH THEIR OWN SILOS
PORAVER® X BULK MATERIAL
---
For large projects or for delivery in your production-site Poraver® X expanded glass is also available as bulk material. Delivery is made by dry bulk tanker trucks (silo trucks). Truck capacity on request. All Poraver® grain sizes can be pneumatically conveyed (discharge pressure max. 110 psi).
DOWNLOADS
Detailed additional information on the Poraver® X product can be downloaded here as a PDF.