THE ENVIRONMENTALLY FRIENDLY, MINERAL EXTINGUISHING AGENT
EXTOVER® – FIRE EXTINGUISHER
---
Extover® is a new, environmentally friendly extinguishing agent which can be used for extinguishing purposes and preventive fire protection. The small, lightweight spheres consist of foamed post-consumer recycled glass with tiny pores inside which form a closed cell structure. The granules are 100 % mineral and therefore non-combustible. It does not cause firefighting-related water damage and it is reusable. The granules were tested by the Material Testing Institute of Dresden (MPA). Even problematic fire loads such as lithium battery fires or metal fires can be easily controlled and extinguished with Extover®.
WHAT IS EXTOVER® 
---
Extover® is a fire extinguishing agent based on expanded glass granules. The material is suitable for class D fire loads and has been developed and tested for metal and lithium battery fires.
Multifunctional
No firefighting-related water damage
Reusable
No hazards to the environment or health
Capable of sorption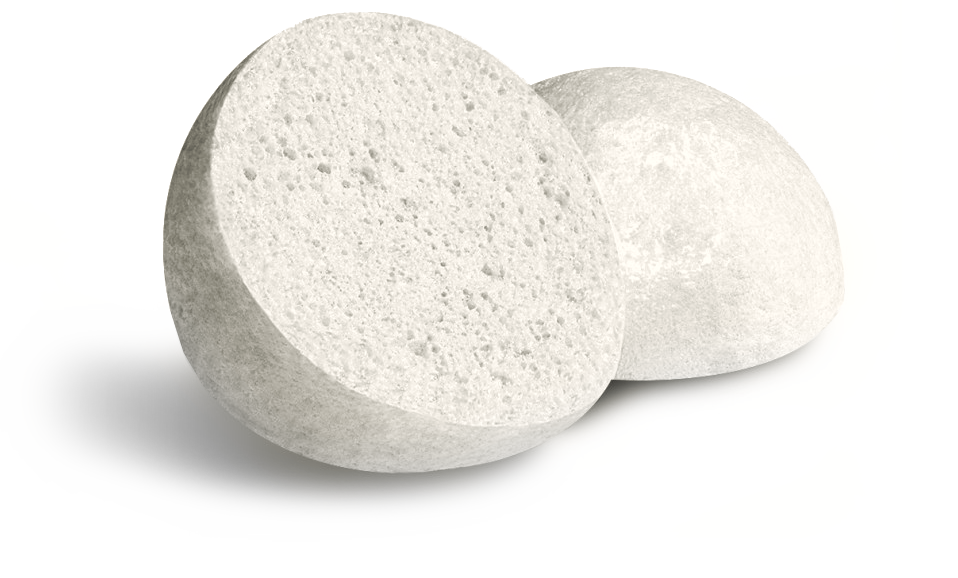 Easy to handle as fill
Very free-flowing
Recyclable
Buoyant
Conserves resources
EXTOVER®
EFFECTS
---
The extinguishing effect and function of Extover®.
SUFFOCATION EFFECT
By covering the fire load with Extover® granules, oxygen is displaced and separated from the fuel. The fire is suffocated.
COOLING EFFECT
Extover® has a high heat-binding capacity because of its specific thermal capacity. It absorbs heat energy and cools the fire as a result. The thermal reaction is disrupted.
ISOLATION EFFECT
Like glass, Extover® melts at a certain temperature. In doing so, the granules absorb a lot of heat in the form of melting energy, cooling the fire while at the same time forming an impervious layer over the fire load. A reaction with oxygen is prevented. Even hard-to-control metal fires, such as sodium or magnesium fires, can therefore be extinguished with Extover®.
GAS TIGHTNESS
The round Extover® grain shape allows very dense sphere packing. The supply of oxygen is impeded by the fill and the formation of flammable mixtures is prevented.
SORPTION OF LIQUIDS
The special granule mixture, together with the porous and thus especially large grain surface, effectively binds liquids.
FIRE GAS FILTERING
Just like liquids, gases and vapors accumulate on the extremely large surface of the Extover® granules and can be bound for disposal.
EXTOVER® SAMPLE SERVICE
Would you like to thoroughly test out Extover® expanded
glass granules for your application? No problem!